I'm still nowhere near the end of my weightloss journey, but I have lost enough now to notice that many of my clothes are now miles too big. This was okay when the weather was cold and I could just wear belts on the jeans and chuck a hoody on, but now it's summer again (or at least pretending to be!) I'm finding it a lot harder. A few weeks ago, I decided to get my summer dresses out and all but one of them hung off of me like a potato sack! I'm not keen to to go and spend a fortune on a whole new wardrobe but I think there are probably a few key items that I can buy which won't look outrageous once I've gone down another dress-size or two.
The thing I'm really struggling with though, is HOW to dress. Since gaining weight, I tend to opt for The Mum Uniform which consists of a selection of t-shirts, skinny jeans and cardigans. Every single outfit I wear is some variation on this theme and while I'm not planning to get to a size 10 and suddenly start going out in hotpants, I don't really know what my style even is anymore. The last time I enjoyed shopping and was even ABLE to shop in non-plus-size shops, I was in my very early twenties, newly married and child-free. Now that I'm a mother of two and in my thirties, I feel quite stumped.
For summer, I reckon maxi dresses are a good bet. Any that I buy now will hopefully be too big by next summer, but I've seen lots of people styling maxi dresses with a big belt, or even wearing ones which are really baggy, so I think that could be an investment worth making. They're 'girlie' and summery but don't bare loads of flesh which makes them ideal for school runs on a hot day.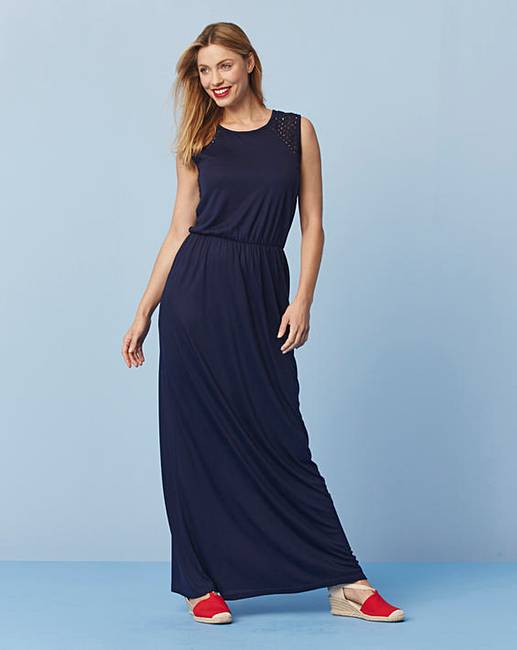 I have noticed already that shopping is significantly easier JUST from loosing one dress size. Previously, shopping for an 18 meant that there were lots of places I couldn't shop at all and my body shape made it impossible to find things which suited me. A few weeks ago, I went to a wedding reception and needed a dress. I was DREADING going shopping because it's usually such an ordeal. I go from shop to shop, getting more upset and frustrated that I either can't find anything I like or nothing fits me properly.
This time, however, I went to ONE department store, picked up about 5 dresses, tried them on and managed to find something I loved with just one trip to the changing rooms. It was probably the happiest shopping experience I've had in over a decade.
From now on, I'm going to try to keep a positive head on when I go shopping as I think it makes it much easier to find something I like, instead of getting into a funk in my head and not wanting to look any further. I may even take the liberty of using a personal shopper to help me find some items that I love at some point in the future!
What's your shopping style? Have you had a body overhaul which has meant that you've needed a new wardrobe? Do leave me a comment below as I'd love to hear from you.