A couple of weeks ago, we were sent some products to review by Panama Jack, the beach and suncare company, to try out in the last weeks of the summer holidays. Being the mother of a very fair skinned, red-headed child, suncare is of the utmost importance to us, however the fact that Sausage also has very sensitive skin doesn't make this task very easy. Even some of the well-known brands, which claim to be kind to sensitive skin, bring Sausage out in an acne-like rash all over her body, so switching brands is something that makes us very nervous.
The first product we tried was the Continuous SPF 50+ spray for kids, which is an aerosol-style spray and made the process of giving Sausage full coverage super easy. Although we're religious about covering her, she does still hate the daily process of smearing thick cream on; standing still while I sprayed her all over took about 10 seconds and made the process a whole lot easier! The spray smells really nice, doesn't feel too oily, gave excellent coverage and best of all, didn't make her break out in the usual rash, so this product gets a full 10 out of 10 from us!
The next product we tried was the Sunscreen Stick for face, lips ears and nose, which again offered SPF 50+ protection. Ears are a place that people often miss when sunscreening, but this little stick made it really easy to cover the more delicate places and it was small enough to stick in a handbag in case we need to top up. And again, no rash.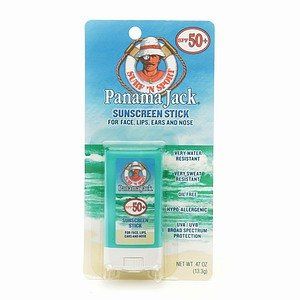 Finally, we were sent two Panama Jack Lip Balms with SPF 45, in Vanilla and Tropical. Both of them had nice scents which didn't overwhelm and neither felt too greasy, which is something I hate in a lip balm. Having extra protection for this lips is great, as they're another place that people often forget when protecting the rest of their face and having a handy stick that can go into a pocket is brilliant.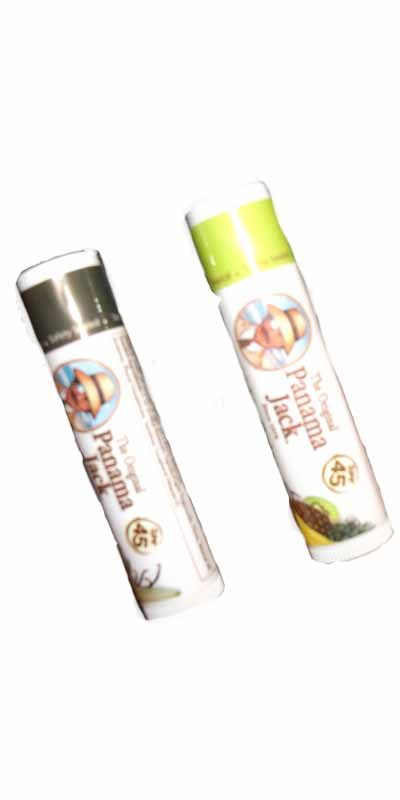 Overall, as a family we've been very impressed with the Panama Jack products we were sent. Having the peace of mind in knowing that the products don't affect Sausage's skin whilst offering good coverage and easy application has made the last few weeks of the summer holidays less stressful and has allowed us to enjoy the nice weather without any worries about sun damage.