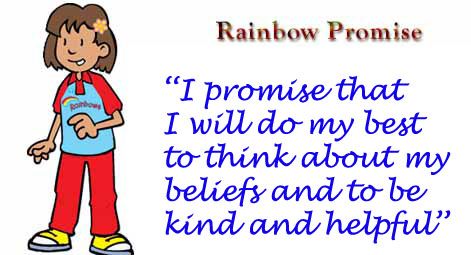 Husband and I have been looking for an after-school club to send Sausage to for some time; there are clubs run through her school but they're for slightly older kids. She's a bright, outgoing little girl but being an only child means that she lacks interaction and sometimes is a little under-confident in social situations where she has to push her boundaries. We were aware that a few of her classmates went to Rainbows so I enquired about our local group and waited for a reply.
Husband raised concerns that he thought that The Girlguides Association was a Christian group and as someone who attended Brownies and Guides myself, I had to admit that I remembered promising to 'do my duty to God' during the Promise. I went onto the Girlguiding website to check it out and according to the information on the site, the part of the promise mentioning God has been removed altogether, after a public consultation. It also goes on to say that The Girlguiding Association "is not, and never has been, a Christian organisation". The Promise, which aims to represent the inclusive values of Rainbows has now been changed to say 'to be true to myself and develop my beliefs'
Okay, so far, so good…or so we thought.
After Sausage's first session, which she really enjoyed, I emailed the Brown Owl at Sausage's group to see if she could shed any light on the situation, mostly because we'd received a schedule of the next few meetings which said that she'd be attending 'Church Parade' within the next few weeks. I asked the leader if this was a compulsory activity and if there was a general note of religion running through any of the sessions. Here's her reply:
"There is not a particularly religious aspect to our meetings.  As you may have read in the Press last autumn, Girlguiding has altered the Promise to ask a girl to be true to her beliefs, whatever they may be, so it is multi-cultural.  Church Parade is not compulsory, but as we meet in the Church Hall and are given greatly reduced rates for the hall hire by the PCC we do like to support the Church.  About once a year the Vicar runs a meeting for us.  This has taken the form of a nature walk round his garden, a BBQ, a tour of the church and a talk about Advent.  These meetings are listed on the programme and you are at liberty to withdraw Sausage from that evening if you so wish."
So, what that sounds like to me is that, because the Church hires the hall space to the Rainbows for a reduced rate, they're given access to the kids to be allowed to preach religion to them. Despite the official organisation tack of 'all-inclusive', I don't see anything on the schedule about activities with a Rabbi, Imam, Buddhist monk or any other such religious leader, so it does seem to be fairly exclusively Christian, does it not? And what, in exchange for cheap hall rental?
I appreciate the fact that we've been given the option to keep Sausage back from the sessions which involve religion, but I don't understand why there has to be a religious aspect at all? It's all well and good to encourage "spiritual development", but I really feel that should be part of the parents job, not the remit of someone who is clearly biased towards one religion or another. My daughter is five years old – she's not old enough to make her mind up about which religion she wants to follow, if any (she regularly tells us she wants to be a Hindu until she realises that it means she'll have to give up eating spaghetti Bolognese) and beginning some sort of insidious indoctrination at such a young age is not what we signed up for.
To be honest, I feel really disappointed on Sausage's behalf. She should be able to attend an after-school club without us having to worry about what might be being preached in her ear, but this Rainbows pack in particular has obviously decided that the all-inclusive nature of Rainbows is to be ignored. The whole point of the Promise Consultation wasn't just to make the organisation inclusive to all faiths, it was to make it inclusive to those with NO set faith too.
She's given MORE than enough religious education at school (which, believe me, is an understatement, she comes home almost every day telling us that there's been some sort of religious aspect to her education) and the last thing we want is for it to be poured onto her at an extra-curricular club too. Faith, or choosing NOT to have faith, should be a personal thing, dealt with at home and marginally through a small aspect of their education. She's five years old and it's all too much.
Perhaps I need to see if I can find a science club for her to attend.