One of the knock-on effects of me being overweight is that I've made less effort in other ways with my appearance. I think it's an issue with confidence and self-esteem, but because I've had a lot of self-loathing about my weight, it means that I feel like it's just not worth making the effort to make myself look nice. On the flipside of this, now that I AM taking care of myself, it's given me a little more of an interest in making myself look more presentable.
One thing that I am worried about with losing weight is loose skin, not just on my tummy (inevitable after two large pregnancies resulting in c-sections, as well as my weight) but also my face. I've seen SO many celebs who are large their whole lives, lose a bunch of weight but suddenly look ten years older because the chub had been giving them a bit of a "baby face" effect. Once the fat melts away, there's nothing pushing the wrinkles out anymore!! Anyway, the crux of all this is that I've been researching skincare recently, trying to find something effective but affordable, and I think I've found it.
Biotulin Supreme Skin Gel is actually used by the Duchess Kate Middleton, and was also a recommendation that she shared with Michelle Obama, both of whom have incredible skin! The gel is basically like a non-injectable, organic botox which firms and tightens the face. It contains a natural local anesthetic extracted from the plant Acmella oleracea, which promises to reduce muscle contractions and relax the facial features around the eyes and between the eyebrows. This promises to reduce fine lines and make the skin noticeably smoother.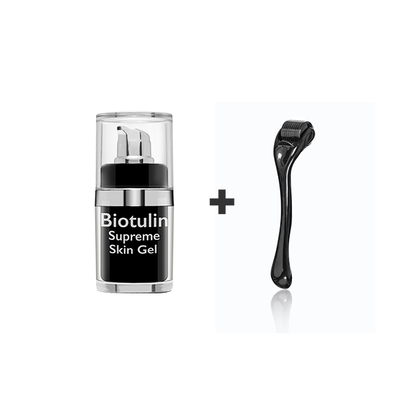 Michelle's make-up artist, Carl Ray, says "Michelle Obama has been using this organic Botox gel regularly on the recommendation of Kate Middleton", while Michelle herself said "It's really pretty basic. I wash my face with a good cleanser, and I use a moisturizer with an SPF. Every now and then I'll go to a dermatologist for microderm or a facial, but I don't have time to do that all the time."
The best thing about this miracle product is that it only costs £43 per bottle, making it affordable for even us mere mortals, unlike a lot of the other high-end products on the market – I'm going to make sure that this is well and truly at the top of my birthday list in June! Knowing that I'll be able to use something to firm my face as the weight melts off is a real bonus because weight loss isn't always as simple as being fat at the beginning and slim at the end, especially as you get older.
If it's good enough for Michelle Obama, it's definitely good for me!