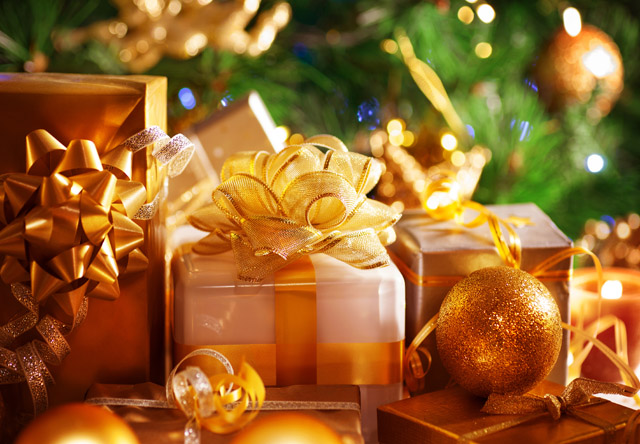 I don't know about you, but there have been Christmasses past where I've been well and truly caught out. Times when I've been convinced by the middle of December that I'm completely done with all of my Christmas shopping and that I have no more gifts left to buy, only to remember a whole bunch of people who I really should be buying for! Times like this are when a good gift stash comes in handy; a handful of generic gifts that you can buy and put away in case someone gets left out or turns up unexpectedly so that you're never caught out. Here's a list of five things that make perfect 'gift stash' buys:
Vouchers
Picking up a couple of gift vouchers for a department store is a really good idea as they can be given as gifts, or even spent by yourself in the January sales if it turns out you don't actually need them. As long as you check the expiry on them, they could even be put away as birthday gifts for people throughout the year if you want to be super organised!
Scarves
If you choose the right colour, such as grey or black, a good quality cashmere or merino scarf will make a good gift for an adult of any gender and will be appreciated by anyone who receives it. Things like this never go out of fashion either, so could be put away for NEXT Christmas if it doesn't get gifted this year.
Smellies
Smellies are another great non-perishable gift which can be kept around until they're needed. Pick up a gift set for both male and female  (you might find a bargain with https://www.myfavouritevouchercodes.co.uk/debenhams-voucher-codes)  and you'll be well and truly covered for unexpected gifting needs.
Board Games
Board games are loved by both young and old and are such a lovely gift to buy at Christmas because they encourage the family to spend time playing together. Classic games like Mousetrap and Monopoly never go out of favour and can be picked up pretty cheaply if you search out 3 for 2 deals or similar.
Preserves
If you're the crafty type and you're also handy in the kitchen then making some festive preserves a little earlier in the year and keeping them on stndby as last minute gifts could be a great idea. Foraging for local fruit and freezing it, and saving jars throughout the year could also mean that it's a free or very cheap option and well-presented preserves make really pretty, thoughtful gifts which can be enjoyed over the festive holidays.
Do you keep a spare gift stash? What's in your stash? I'd love to hear your ideas!