Burrito Baby is a very lucky girl – she's already being sent things to try out and review! Given that she has such a busy schedule of sleeping and milk-drinking, I thought I'd condense a few things down into one post of products that we've tried and loved in the last 5 weeks.
Aden+Anais Swaddling Muslins (£44.95 for a pack of 4)
When the lovely people at Aden+Anais found out how much Burrito Baby liked to be swaddled, they asked if we'd like to try out their extra large muslins, which are perfect for swaddling babies, amongst other things. We've found these muslins have come in super handy for a number of things – laying BB on while she was being weighed instead of putting her straight onto the cold scales, draping over her car seat and pram as a sun shade, and obviously using as a wiper-upper when she's being burped. The patterns are so pretty and unique and the cloths have actually got softer each time we've washed them.
Sophie La Girafe Organic Skincare (from £10.99)
I'm not a huge fan of putting unnecessary products on babies – their skin is so delicate at this age and let's face it, babies smell good enough as it is without slathering them in strong fragrances. However, the Sophie La Girafe range of products has won me over. It has a barely-there, subtle fragrance and are super gentle on BB's skin. The Baby Oil is one of my favourite baby products ever and is perfect for when I massage BB after her bath – I can honestly say that this is a product I'll buy myself when our review sample runs out. Also, and this is totally shallow of me, I LOVE the look of the packaging, sitting on BB's changing station!
Pink Lining Not So Plain Jane Changing Bag – £69.00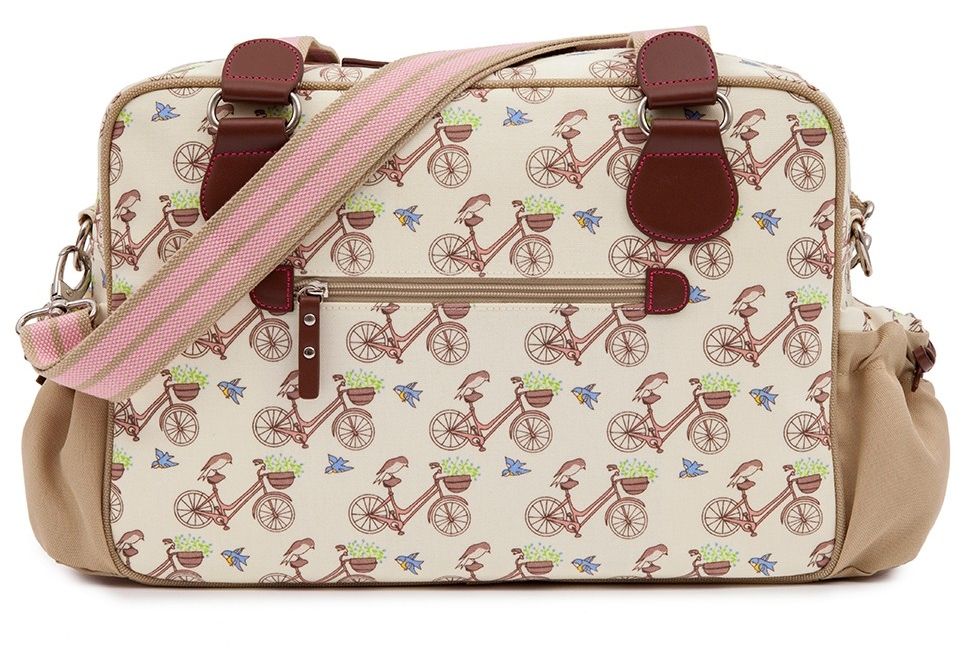 I've been coveting a Pink Lining changing bag for ages, so when they asked me if I'd like to choose one from their new range of designs, I spent an absolute AGE trying to decide which one I liked best! Eventually, I settled on the gorgeous bike print above, which is so unique and pretty, but this bag is about so much more than looks. It's got space for everything we need to carry around with us for BB and loads of clever practical touches, like a key fob, phone pocket and mirror. I'm completely in love with this bag and have lost count of the amount of complimets I've received since I've been using it.
Daisy Baby Mei Tai Sling – £19.99
BB has been suffering with both infant reflux and colic, and the Daisy Baby Mei Tai Sling has been an absolute godsend. Keeping her upright is the only way to soothe her when the colic and reflux strike and the sling is comfortable for both her and me. At first, I was wary about using a sling, but the Mei Tai is very well made and feels sturdy and safe when BB is in it. The pattern is lovely and neutral enough that Husband would be happy to wear it too. BB is very happy when she's in the sling and it holds her in a position which doesn't put any unnecessary pressure on her hips.